Even as a tech entrepreneur from NYC I have not known anyone who knows about social networks as much as you do. @anandmahindra may be among the only few who can see what you know to be true for 10 yrs. @Chattodonow Chattodo is a VERY important product. World needs your vision

— nehakesarwani21@gmail.com (@NehaKesarwani21) June 12, 2020
Read the whole thread of this tweet made of a tweet by Anand hi, followed by my tweet and then Neha's tweet
@anandmahindra give me .5x of your previous amount & double the time invested, in considering my social network. I promise over a 5x of the other social networks kind of return to you & the world. Help make my team spend 10 hours a day with me, without worrying about salaries. pic.twitter.com/qsuFuVeJGU

— Nishchal Foolish Kesarwani (NFK) (@Nishchal) June 15, 2020
This tweeted image will make more sense to you if you have read all the previous chapters.
"Silently, I was fighting for for justice and equality in education system. Now I will fight for truth, justice and equality among men and women too. Furthermore, a cause I can give up my life for, if need be, is - a state not compensating humans for hastily putting them in jail without any evidence against them of wrong doing. State is misusing it's power and violating human rights. A historical dissent to fight this menace is what I will initiate unto my death. Another menace worth giving life for, is unacountability of lies peddled by media e.g. - https://youtu.be/glUTRZ-fxpI "

- Nishchal
To explore the extreme altruistic side of Nishchal represented by the latter, check out the not for profit - www.gencosys.org. If you support it, it would mean you are supporting us to support Nishchal's vision and mission for the world.
O Me! O Life! BY WALT WHITMAN

Oh me! Oh life! of the questions of these recurring,
Of the endless trains of the faithless, of cities fill'd with the foolish,
Of myself forever reproaching myself, (for who is more foolish than I, and who more faithless?)
Of eyes that vainly crave the light, of the objects mean, of the struggle ever renew'd,
Of the poor results of all, of the plodding and sordid crowds I see around me,
Of the empty and useless years of the rest, with the rest me intertwined,
The question, O me! so sad, recurring—What good amid these, O me, O life?

Answer:
That you are here—that life exists and identity,
That the powerful play goes on, and you may contribute a verse.

If we had to describe Nishchal Kesarwani in one line to you, it would be impossible. However, here is our failed attempt - He is the founder and a boundless leader at
Chattodo
and
Preseed.
He is not an engineer by a degree but leads engineers. He is not a designer by a degree, but our team recognizes him as the best non-cosmetic designer mind they have known. He understands engineering and designing as a first principle philosopher much like how he understands life from its origin.
A small note about our founder

Namastey,

We are a small culture in India called Preseed. We are running under an unusual man's leadership. It's his imagination, courage, knowledge and intellect, and the act of our people that make us extremely valuable support to a man or a woman with a will to do something out of the ordinary. We are a result of his words expressed on his blog, this website -

www.preseed.in

and all its associated links.

We are with him in his culture due to the following attributes we have observed in him:

1. His extraordinary mass consumer ideas.
2. His courageous way of being, leading and creating.
3. His ability to execute those ideas to become MVPs without a single penny. (This is the most important point: it would have reduced the cost of important experimentation in India by more than 4x, just as it has done for our organisation because of his bility to replace money with inspiration among one and all in our team, leading to really low costs of creation so far).
4. His ability to communicate extremly complex ideas as smaller fragments effectively and inspiringly with our globally distributed remotes teams.
6. His courage to do before anyone else and his ability to face odds before anyone else will face them.
He leads before he eats and he has only gotten started.

He teaches us to be patient, to persevere, to keep it going, to have fun, to exercise and to be in meditation.

His haters call him an objective asshole. You may too, if you can't back your gut or ego with intelligent reasoning and facts. Even your belief in god needs to be addressed with that level of reasoning, just in case you wanted to touch that topic with him. For you are allowed to touch absolutely any topic in the universe with him. When he dives deep with you in realms that look subjective to you, he will still be being objective. He will have deep rooted reasons, and you will have to stretch your imagination to see those reasons. It's on you fellows, like it is on us, his team. Only if he sugarquoted and had filters, our lives would have been less intense, and he wouldn't have been called an objective asshole. If you are looking for lesser intensity and sugarquoting. This is a wrong place. If you are looking to build some meaningful company or build Preseed further, this is THE PLACE.

Disclaimer: We will be timeless in our results, but not in our objective conduct towards action. The result of which will be your great company. This blog must be read well and to great lengths, however, it will never be perfect or complete. It's chronicling our reality, as it moves forward, by the day.

We often see him as a person who strikes a great balance between 1 & 2:
1. That people don't always need advice, sometimes they just need a hand to hold, an ear to listen and a heart to understand.

2. After he has understood that just listening to you is not enough, you need advice, then his way of holding hand comes in. It comes from his vast sea of imagination and knowledge. He delivers it through, non-sugary words. That is his way of love. His way of love is in being, firstly a good listener and then a good advisor. His advise comes without filters. Be ware, for, if he corrects you and you feel offended, then you have an ego problem. And if you have that problem, you may not survive Nishchal for too long.

To us Nishchal is not an objective asshole. He is an all-seeing eye, on a mission. And in that journey, he cares about no one, not even himself, more than the mission itself. For it is in this mission he can actually take better care of one and all.

Even the strongest men in his situation would begin to conform to norms. Yet, he is not the man who will succumb to circumstances. Many times over the last 10 years he has hit rock bottom. Every penny he makes, he invested in his software whims to do good in this society. He continued to compensate his teams, over and above his own survival, to at times sleep with no roof, cash, food and phone. Even his family lost all of it a long time ago when he was barely 20. He was pressed by his family and well wishers to take up a job, for he was receiving lucrative job offers by the day. He was criticized by those who ones loved him. A person in his situation should have not survived. In this period of struggle, no one came to his aid. He kept his head held high, didn't take up a job and still sails forward like a warrior on his mission to free the world from present structures, boundaries and meanings. This journey is leading him into a true story of rarest courage and conviction, as it unfolds before the world, in more action than words, over a long period of time.

He lives in the world of extraordinary ideas, idealism, inspiration, simplicity, a bicycle, a backpack, some yoga and lots of action. He questions, inspires and teaches us to be who we are becoming on this journey together. He does this in his well informed, imaginative, idealistic, bold and democratic style of leadership, unique only to him. He is Preseed's first resident Yoga exponent and researcher.

He is in his early 30s, and has a way to express his theory of no god or the origin of the universe, its end and what after the end, without using religion and mysticism. We have never known anyone who can express such complex ideas with such ease, passion and simplicity. When one asks him, how do you know all this and how do you dabble between spirituality and the material world of technology. He says, "Firsly, none of what I know is my own. It is all just flowing through me. The reason for that is resonation. I am at the same frequency as the fundamental truth itself". And then he goes on to explain how energy flows into each other and how shapes and forms take place. So, one of his favourite quotes is -

"I think the trouble with being a critical thinker or an atheist, or a humanist is that you're right. And it's quite hard being right in the face of people who are wrong without sounding like a fuckwit. People go 'Do you think the vast majority of the world is wrong?' Well, yes. I don't know how to say that nicely, but yes." - TIM MINCHIN

He is unabashed in praising you as he is unabashed in praising himself. He says, "Why should I draw a line in the way I talk about you when in praise, and the way I talk about me, when in self praise. Why should I treat you differently and I if we are both worthy. I like honesty far above and beyond humility". Yet he is humble. We love that. He may say not everyone is an equal, and then go on to prove it through frequencies of atoms rendering different shapes and forms. He is an extraordinary person.

Nishchal has been an entrepreneur of 10 plus years. He has lectured in business along side the likes of Ritesh Agarwal, founder of

OYORooms.com

. He has also received director/co-founder level offers from founders of

91springboard

and

Embibe

to join them in their own companies. You may notice Nishchal has knowledge beyond his years. You may read more about him from the social links above. We highly recommend you read about him as much as you can (in the order of social links mentioned above). He will change your life. For the topic he dwelled in most about in his life, is life itself. We bet he has done a fantastic job at it.

His life's purpose may be summed up as following :-

1. Karma - His purpose is to work in the area of liberating people through technology entrepreneurship of the righteous intent, so that at least some of them could truly and soulfully do that what is meaningful to their soul.

2. Dharma - He walks the path of karma also to help (wo)mankind make progress through their own actions towards liberating them from their non scientific and rigid beliefs of life and universe, so that they could do what they find harmony in. Hence, his purpose is also to ensure that the soul is not ignored any more. His purpose is to understand and impart the awareness of the god's vibe through yoga.

3. Seva - His purpose is to ensure that each life he touches on this journey to building products gets truly served in their righteous progress. This is how he perceives the value of his products, not through the value of money.

The things he do in a day, enable him to stumble upon many teams with good ideas and a strong will to build further upon their ideas, through their skills, perhaps even a sound prototype, logistical and back end capabilities. Almost invariably, if he finds them good enough to ping his mind, he would have views for them that could help them make further progress. But these views are not mere theoretical views, these are strategies that need to be executed beyond the current capabilities of the prototype team. So, in order to help these teams at different stages of the startup life cycle we have allowed for such teams to engage with Nishchal directly. Although, this will be useful when startup teams are willing to stay focused on the strategy proposed by Nishchal, above all else.

Freedom of the mind is a concept in theory, without the freedom of the body" - BKS Iyengar

To truly know him, we highly recommend that you see him in person, watch him dance and hear him talk. Be touched by his contagious smile, rare courage, all rounded genius, and exceptional intensity. However, if you can't get in touch with him in person, then simply read his first drafts of somethings that matter to him, written on his

medium essays.

Also, read about him from his personal bio in his own words written in 2011

here

and

here

, directed towards the entrepreneurs who seek him.

We Know:

PEOPLE DON'T ALWAYS NEED ADVICE. SOMETIMES ALL THEY REALLY NEED IS A HAND TO HOLD, AN EAR TO LISTEN, AND A HEART TO UNDERSTAND THEM

Yet:

If someone corrects you, and you feel offended, then you have an ego problem. - Nouman Ali Khan

If you want Nishchal, remember these two quotes.

When the result of the actions upon these ideas, stories and inspiration takes its first real form that can be demoed to such investors and customers, as per us; the startup is hand held by me personally.



Nishchal's professional summary before Preseed

Below are photos from Nishchal's various talks that had moved and shaken some humans and ideas, into newer shapes and forms.


Nishchal is not a conventionally educated man. He dropped out of college. However, he is a learned and observant man, but most importantly, he is a meditative man. He learned his early entrepreneurial lessons by leading a team of extraordinary men and women while he was only 23. To know who were the people he led in his first company FloEco India Pvt. Ltd., and what they went on to become, click on their names to know these stars — 

Parag Arora(YC)

,

Siddharth Khattri

(Google & Techstars),

Neha Kesarwani

(cofounder www.vertoe.com),

Kabeer Jain

,

Siddharth Yadav

,

Vinay Yadav

,

Puneet Bharti

,

Akshay Gupta

,

Mustafa Shahansha

,

Puneet Bharti

,

Varun Rajput

,

Atul Agarwal

,

Radhika Kapoor

and

Jatin Agarwal

. This was his first team, and he was their first captain. He has a knack for identifying talent before it reaches the rest of the world. It may have been painful to have lost that team, and starting from scratch, from that rock bottom. This situation must have had something to do with Nishchal's new found raised bar at Preseed.

Somewhere along the way, Nishchal got offers from companies like

91 Springboard

and

Embibe

, by their charismatic founders to join them as a co-founder and director. He had to politely turned those offers by these game-changing men and women. Nishchal was to be on a mission of his own. Something only he may be destined to do. Today those businesses are at over 200 million dollars in valuation, while Nishchal is building a Chinese bamboo. It is deeper below the ground than above it.

To say the least, his constant advice will help you understand your business ahead from some new standpoints, perhaps, over a noticeable period of time. He will prepare you for your investment/incubation readiness. The slide deck you will make together will help you raise investment. However, that is the least of the reasons he will help you in the making of a right Slide Deck. What is the most important reason he will do this exercise for? This is the process with which he will reveal your company to you with some new standpoints. His questions to you, and your understanding thereafter can make all the difference.

Over the years his $100,000 backed startup failure with the above-mentioned star-studded team in 2010 at his ripe age of 25, to starting Preseed as a community in 2012, up to now, Jan 2014, he often finds himself and his team  advising a lot of business owners and friends, who have come to us seeking his advice on new ways to do business in the new, ever changing age of free information and free tools.

However, he has been so caught up until now in building from the ground up, upon his own ideas listed at

Preseeded

and that he never formally got the time to start our consulting for such businesses and startup friends out there, even though in his personal capacity,

in the past

, he

has advised and executed for companies like —

1.

Libra Mattresses

(among the top 5 mattress manufacturers in India) - Nishchal aided them in 2009–10 in improving their brand and design. They give his team's designs the credit for making one of their foam product their best seller.

2.

Jeet India Limited

(a SME in food and beverage) — In 2009–10 Nishchal with his team (that later placed in organizations like google and O&M) worked on their brand, their packaging, their ERP, their IT infrastructure etc.

3.

Invest Care

 — In early 2011 Nishchal and his team deployed IT infrastructure solutions for them through his other co-founded startup called BizOnTech. (Note-: He dropped out of BizOnTech soon after to split from that team, to focus on something more inspiring, that now is called

Preseed

).

4.

Om Sai Global

 — In the mean while to make ends meet Nishchal started advising Om Sai Global on harnessing the internet better and graduated to training their teams. Soon after he became the CEO there for a brief period of 3 months as that allowed him more authority to attempt some overhauling in their company. He did not continue thereafter for he was not motivated to serve real estate business.

5. Many more such business consulting stints happened till 2011 December, when he finally decided to not work as a consultant to SMEs anymore, to focus back on what mattered to him the most. What mattered to him the most was building

Preseeded

, which of course in those days around the mid of 2011 was just a thought in his mind, without a form. For Preseeded,

Preseed

had to happen first.

So he started building Preseed.

His main interest of work always lied in building startups from bottom-up, for that leaves more room for some soulful innovation. He liked to innovate on even the way businesses are managed, let alone the product the business is building. His appetite for technology and good design transcends by far the appetite for technology and good designs in most businesses in India. (Although, ironically, in spite of having the skills and sensibilities, he is unable to devote time to improve designs on his own website :p).

His biggest challenge in consulting SMEs was that they often lacked the creative work force needed to execute what my advise may have contained for them. Hence, it was a fair decision by all regard to stop advising others to focus back on starting up a business that fulfilled his desire to co-build important things that mattered. So,

if you are building something important, that leads people to experience greater freedom in his perspective, count him in.

A hand full of action oriented, extraordinary humans that I can make great timely impacts with the help of, through the collective of their startups and our mind.

Thes are some of the projects Nishchal advised or connected, often for no benefits. Just out of his love for entrepreneurs:

1.

GameXS.in

 — Helped them raise their seed investment in 2014–15.

2.

Ebikego

 — Nishchal advised them and made way to have them get a consultant who eventually was hired into their management team.

3.

Zipgo

 — Nishchal connected two entrepreneurs Jitendra and Pritesh for he felt they were headed for a common goal. After a few years, they cofounded ZipGo and ended up raising $55 million together.

4.

91springboard

 — Connected the cofounder of 91 Springboard, Varun Chawala with someone whose company Varun acquired for his father's travel business.

5. Co-living and homestays — Spent ample time exploring accommodation industry with a friend

Minakshi

as a potential partner. Nishchal and Ritesh Agarwal, founder, OYO once lectured together about the entrepreneurship and the accommodation industry in India.

6.

LawClik

 — A firm we are looking to lay our mind and connection to, to make a dent in the legal industry with. The founder is a friend who often collaborates with Nishchal over their legal industry tech thought.

7.

eduSq

uare — I am involved with them as a friend over matters of their growth. Soon we will translate this friendship into a business handshake.

8.

www.IVAT.Com

 — I have been offered to join them as a co-founder. This deal is under negotiation

9.

Delhi Furniture Company

10. DIY Guru — An education company that can lead Indian students into contemporary education about mobility. Nishchal is looking to find an investor for them.

11. Potbelly — Its an award-wining restaurant chain of regional food, and it is winning. Nishchal helped them hands on during the first few months of Potbell's start.
Brief back story part 1

When I was starting Preseed, I used to tell people that I am going to build a company where I could float my many ideas and see them take shape. The first step to building a company like that, was to build a culture like that of a hand full of people who believed in not only my ideas but my world views. The next step was to instill so much inspiration in them all that they go all the way to enable me or assist me further to shape up those ideas. The next step was to put them in order, a system, a set of protocols. Now comes the next step. The step in which we create a very simple modal box for each idea of ours and link it with MyIdealist, earlier called Idealistr. This complete step if done right, including marketing, will have the potential to blow things out of proportion for us, meaning, since the cost of experimentation at Preseed is unbelievably low because of our altrusitic and courage filled works, at such lower costs, now almost all our ideas can start taking shape, from the moment we find an inspired hacker who is intrinsically motivated to build that product with us, for reasons not only limited to the goodness in the idea of the product, but because he sees the goodness in teaming up with us.

Similarly, MyIdealsit, will give you the dashboard to publish your ideas that you have deeply thought of and from that moment on, would like to publish to be read by your future teams. This project will move forward to becoming a simple mobile app where your network will get instantly notified everytime a new idea is added, so that they can go to it's link on MyIdealist and know more about the idea or start a dialogue with you about it right there.

There will be comments feature too. It will be a way of collecting testimonials by those who have had the chance of having discussed the idea with us. (Rest of the ability of commenting on the idea for the purpose of understanding the idea - will be handled at MyIdealist). Here the commenting will serve the purpose of marketing of your ideas.

MyIdealist will lead to creating a network of evangelists for your ideas. They follow you based on your ideas and not because of your controversies.



Let's think and build ideas together

So many people, incubators and initiatives together may not be able to help entrepreneurs as much as one right web product. Reason - The vision of too many people may have been boosting the entrepreneurial ecosystem but only Anglelist had the product vision to create the most scalable product to contribute to this cause of boosting entrepreneurs rather than creating an incubator or conducting events.

Blast from the recent past  from 2012 —  First, Nishchal started this community, Preseed, as a FB page to empower entrepreneurs and aspiring entrepreneurs personally through mentoring them over my lectures in top colleges and through personal phone calls. Then, with the lessons of running that community for 2 years Nishchal started to build a web product called Idealistr in 2014 (find it in step 3 of preseeded.preseed.in) to empower potential entrepreneurs, across the world, by suitably profiling them and making them discoverable. The main problem faced by aspiring entrepreneurs who want to turn an idea into reality is getting good talent. Idealistr aimed to solve that problem by helping change makers find the right cofounders/volunteers for their idea to bring it to reality. Idealistr was also meant to lay the foundation for attracting angel investors. This was a product for philosophers, engineers, doers, remote coworkers, entrepreneurs and aspiring entrepreneurs.

Also, Nishchal had been dreaming since 2009 to channel the creations of technology students across the country towards solving real-world problems. So there is a wholesome growth in our society of students and solution seekers, which is the society as a whole. This can be achieved in a more social and democratic ways than that can be seen so far for there is a vision for a very noble cause but that vision needs to be translated into a vision for a web product and not a mere website. Thus making it more scalable. And this is true for us too.



Mission: Connecting entrepreneur, inspired hackers, hustlers, designers, and early-adopters today to build profound teams and MVP tomorrow.

Methodology :

Discuss the idea
Get connected with hackers, hustlers and designers
Roll out the MVP
Assistance for early adoption
Finally, get on AngelList

They are the productive people, who collaborate and communicate upon ideas and startups.

Angellist is designed to facilitate a transition of a startup from more than a 2 people team and beyond up to some real serious investments. Idealistr was designed to facilitate a transition of a problem into a narrative that could inspire future co workers.

To help them better collaborate and communicate productively in more novel ways, Nishchal started to build

www.todoed.co

too, to back his vision for ultimately a chat app for entrepreneurs called

www.Chattodo.co

.

If you are starting your journey as an entrepreneur now, you are exactly the person we have built our chatting app Chattodo for. I have been that for 10 years. Somewhere along the way in 2009, I got stuck at this problem of lack of efficiency in communication on a mobile phone for an entrepreneur. Just that.

2020 - Now minimum viable versions with some bugs here and there for all of Nishchal's products are READY.
Brief back story part 2

Todoed is made up of I(could be the ceo) and Dhaval(could be the cto) full time. And there are two part time advisors (passive tech advisor - Saikiran and fairly active tech advisor/hands on coder/backend Ansal).
This is the Todoed core team - I and Dhaval. This is all I need. This, all the way to cover, chrome extension(all to do with text - 75% done) and iOS (all to do with voice and text). This is the iOS/backend/marketing/design team.
It is Todoed on iOS that ultimately will solve my own problem fully that I envisioned it to do for me first. Todoed as a chrome extension has been able to do it only partly.
I started my journey to inspire ideas, faith (in each other), and action among all I come in contact with. So, I started Preseed. Found Dhaval on that journey and mandated him to build upon my vision for the product, that productifies Preseed, to enable more potential entrepreneurs to build. The prototype is here www.myidealist.co . Now while journeying over this I realised a problem with my own fellows and community at Preseed, where actionable tasks sent over chat, kept getting lost. I told Dhaval to transfer the task of building MyIdealist to our other coworkers at Preseed and join me asap at building Todoed.
In brief the above paragraph should give you a glimse over my exact motivation:

1. To make people more productive.
2. For the purpose of building ideas.

Todoed should help people be more productive for the purpose of building ideas. Some day a text with '#idea' in Todoed will create more possibilities for users of Todoed to transition that idea into a MVP and then perhaps a startup. That day Todoed and MyIdealist will be very closely integrated. But this year, that can even be a part of dialogue. Because this year is about everything in Todoed except this '#idea'.
 - - - - - - - - - - - - - - - - - - - -
This is Todoed being built for the present or what I call 'the Todoed operational parallel':

We get tremendous invaluable support from Preseed, the noise free community of self inspired potential entrepreneurs and entrepreneurs, I started 3 years ago. That support will continue forever. That support means the ball at Todoed is always rolling. The hustle is always on. Independent of money, office, materials. It's a bonus. Large bonus. That is capable of producing the product, even if Dhaval and I were not there. (But Dhaval is there, has been and will be, forever, so had/have/will I. I have shared a profound and deeply action oriented relationship with Dhaval for 2 years now).
Preseed is now represented through Govind, coordinator at Preseed; to Raj, who handles Todoed at Preseed, and hence is the coordinator at Todoed, meaning Raj's mandate is to extract the juices out of the Preseed team/network for the purpose of building Todoed, independent of the works of the core team of Todoed.
Operational parallel: Raj; under my day to day directions and suggestions in freelance arrangement with Ansal, and advisory from Kartik Mandavidalle; with an open access to human resources of Preseed. This is how we have so far, Built the chrome extension; measuring it, learning it, repeating it. All the way to making it the best productivity chrome extension in the world. This is truly exactly the process that built Todoed thus far. And that is the exact process that will continue to build it further over the next 3 months.
We think our chrome extension will be perfect by that time. While this is going on, Raj will continue to market the product and study the user metric and behavior. And then further market it upon those lessons. This is all about the Chrome extension.
So there is also Raj in the Todoed team. He was my second in command at Preseed. Now he is my second in command in Todoed.
Three of us are building Todoed at 0 costs to Todoed, from our own homes, I in Lucknow, Raj in Kolkatta, Dhaval in Ranchi. Whatever little server/freelancer costs, Preseed/Preseed network takes care of it. That is how we have done things and can do for a long period of time. We are,in one regard, self sustained.
However, if we raise money, I can raise the bar -:


1. I want to set up a beautiful conducive office/infrastructure in Lucknow to come under one roof to build and grow a great roof to work from, physically also together, not just mentally.
2. Build the product to my satisfaction in 3 months, and take I and Dhaval to Silicon Valley (leaving Raj and others to hustle in India), to work closely with a marketer/growth hacker who has been there done that. We want to go to him with a product, which is ready to be marketed at his full ability. I have the vision for the product, which can attract among the best marketers and growthhackers in the world, if we can compensate them suitablly. (This is a 100% consumer web 100% tech product and there is no reason for me to not build it from the place and in the neighbourhood of people who have done it the best).
-
Love and Peace
Nishchal
Preseed YOGA

"Yoga is the union with all. So, regardless of the struggles, YOU remain blissful."

Nishchal COACHES, ADVICES & CONNECTS you with the right set of people vis-à-vis his tough love yoga called

Preseed Yoga.

The sole purpose of Preseed Yoga is to make people capable enough so that they break their limitations to graduate organically,

into, a state of freedom through:

Nishchal's Profound Questions:

The kind of questions, the answers to which can deliver catharsis. So long as you and us dialogue, this service will get established, seamlessly. From day 1.

Nishchal's Marketable Answers:

Answers won't just be for talk's sake, but for the sake of the market you want to solve a problem for. so long as the problem you are solving is a real pressing problem of the majority of the world.

"Observation of my life to date shows that the larger the number for whom I work, the more positively effective I become. Thus, it is obvious that if I work always and only for all humanity, I will be optimally effective. - Buckminster Fuller

Preseed Yoga is Nishchal's flagship business service  to you till his products manifest and deliver his values to you without words— Nothing about Preseed yoga is yoga as a cliche. This is real yoga for entrepreneurs. Shapeless, formless & definition-less.

"When Karma, Dharma and Seva fall in the same line, then the whole effort is called as Karma yoga. At some point the whole economics of India was designed on this line and evidences prove that it is the most successful and holistic. I endeavour to revive it." - Nishchal

Preseed Yoga's purpose is to enable you to see the truth from fascade.

Hire Nishchal and his team to IMAGINE for you, while you do what you are good at. He will be your vision's unfair advantage, through simple.preseed.in with whatever little time he may have in hand for you on our request. In fact, it is to teach one right potential leader, well, we have decided to dedicate a youtube channel to Nishchal. That potential leader may be the future CEO of Preseed. If you are a coder and think you can be our CEO, write to @Nishchal.
Nishchal's few other attributes we love

Nishchal is here to sincerely help change your status quo, to ensure that you get at least one shot to do something impactfully different. His attributes are as different as the result he wants to create, even culturally. Some of those attributes of his we love while some others find amusing:

1) He rides bicycles and shows up for most meetings(and parties) in shorts and t-shirts, needless to say, sweaty and muddy. He doesn't care about what he is wearing and he also doesn't care about what you are wearing.

2) He has huge concerns over effective visual communications, especially if you are designing to communicate with your customers for customers won't get into long verbose conversations with you. He feels if you invest on communications right, it would really facilitate his task of 'GROWING THE COMPANY'. If you are an alive company with some real on the ground traction, sometimes, the first job he may want to get done for you is getting this aspect of your business right. We hope we will find you prepared to invest time and money on this.

Note -: Good designs seek good payments. If you are not willing to pay the graphic designers well, we won't take the responsibility of your visual communications. Actually this stands true for any vendor services.

3) He may get really really profound and verbose at times, almost on a whim, but that's because he has a very liberated sense of possibilities, passion backed with logics that may take you time to comprehend just like most groundbreaking logics in physics may take time to comprehend.

4) He is even further north of the optimistic side, from other people's perspectives (especially those who are still found conducting business in traditional ways*). HE IS REALLY REALLY DREAMY, YET SIMPLE.

5) He never thinks not backed by an investor is a problem or a big deal, so you also please stop assuming that it is. It definitely is a means to an end, no doubt, but not having it should not mean you stop the hustle. Be creative in even how you make your ends meet.

Where there is a will there is a way

. Look carefully at how he is trying to do the same for himself.

Traditional ways :-

A) Poor visual communication.

B) Without harnessing the internet.

C) Unclearly defined roles and responsibilities of the staff.

D) Uninspired management apart from the co-owners.

E) No Business plan.

F) Ineffective or delegation of tasks.

G) Unoptimized resource including the available human resource.

H) Little or no funding.

I) Disbelief and bad payments against exceptional quality.

At PRESEED YOGA these are also some of the aspects we work on.

5) He never thinks money is a problem or a big deal, so you also please stop assuming that it is. It definitely is a means to an end, no doubt, but not having it should not mean you stop the hustle.

6) He will say a point once and in most cases, it would be communicated to you in written words. We already assume that you are inspired enough to take action on the point he has stated. So, don't expect us to send reminders or follow up till you yourself write to us telling us the status of whatever the point of concern was. He hates to repeat. It's not an ego thing. It's the 'duplication of the same effort' that he is against. It is the same as inefficiency.

7) Twitter is one of the best ways to get in touch with him. He prefer it over emails and phone calls.

8) We hate to see his time getting wasted with you. You are not the only business/idea/goal/dream he is dealing with. So, please value his time. Value your time too. If you save him time, he will most certainly make this world a better place.

9) He is critical(but not over critical) and brutally honest. In fact so much that sometimes we lose people for they get offended. But, that helps us in filtering bozos. We just hope you are not one of them who we lose.

10) If you are not being creative and liberal, we are not interested in you.

At PRESEED YOGA these are also some of the aspects we work on.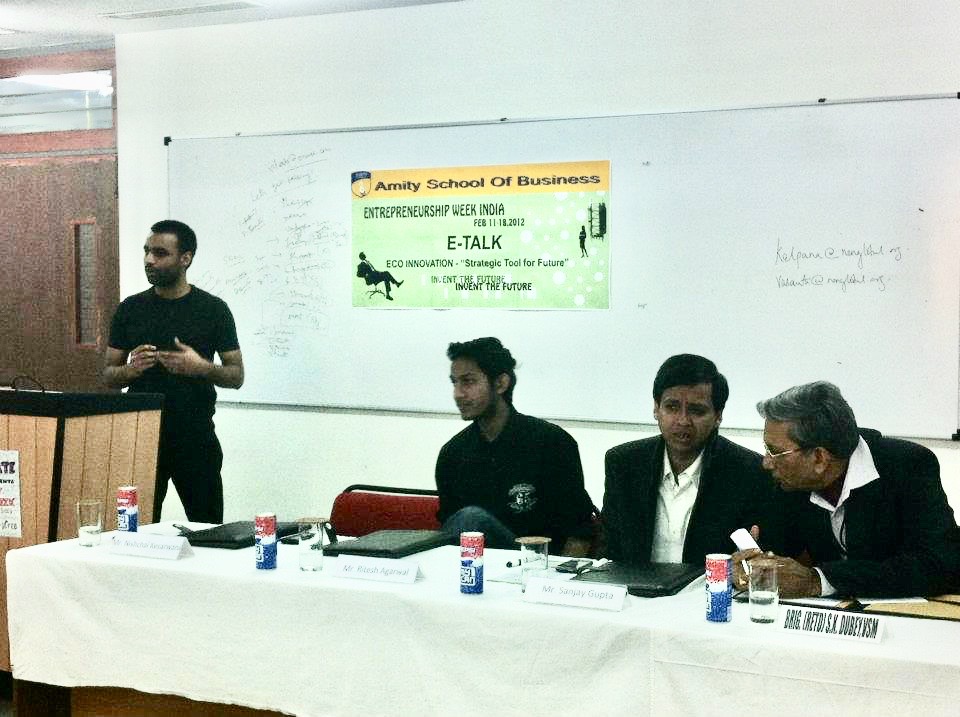 The landscape Nishchal Kesarwani is covering through his work bleeds of the new age of productivity, entrepreneurship and freedom. Here is what media has to say about his work:
On our mission towards empowering those who have the will to do s0mething out of the ordinary, we have covered some ground. "By the way this is just a start. It is not going to be perfect, yet. However, we have decided to dedicate our whole lives to the cause of meaningful technology entrepreneurship, regardless. We hope we are able to be of some impact there. Infact we have set up a self sustainable playground of sorts called Preseed Web Lab where some of you inspired ones can build with us web products, upon ideas that are definitely novel. Some of them may truly have the potential to change the world". This is the pitch that formed the goal of conducting these talks. As a result, Chattodo got built.
Preseed Weblab


"I don't really know what the next big thing is, because I don't spend my time making big things, I spend time making small things, and then when the time comes, I put them together." — Mark Zuckerberg

Preseed Web Lab has been THE FOOD FOR NISHCHAL'S CURIOUS SOUL and like me, I hope one day, for many other curious ones.
Here we will aim to challenge the status quo, being the belief of people that you need money to lay the foundation for a great product. Lets see how far we reach with it. For now all I can say is that we are sitting on top of some very progressive ideas with very progressive people.
At Preseed Web Lab we are always looking for only 3 kinds of people —
1.Hackers
2.Hustlers
3.Designers
who are willing to build with us without any immediate compensation or contracts, from their bedrooms or dormitories or any other space they have. All they will get at this stage other than a solid product vision for a meaningful idea, is some words of commitment about their share of ownership in the product. It could be anything from a 10% to anything based on their role in driving that product forward. So if you can have faith, come on board. Write to us at do@preseed.in
What happens to the MVPs(Minimum Viable Products) that get built out of this process of brainstorming over ideas under the foundation of faith and inspiration not money?
Preseed Web Lab's job was to get you to build MVPs around our ideas in good faith as partners. That itself sounds like a job well Done.
The following may happen when the MVPs get built, at this stage we move the project from Preseed Web Lab into Preseed Cooked Project-:
Together you and I hustle to have the product some beta users and real feedbacks.
Once we have the first set of users, it is established that the idea we discussed a few days ago is a customer validated unfinished product in a matter of days e.g. this app. That is the power of not only a solid product vision but the vision of it's first iterations for achieving the MVP at no cost implications.
You and I get into a working partner relationship of sorts that has produced a product purely based on faith in each other, without wasting time in useless premature paper contracts or MOUs. No bullshit, only action.
Above all, the biggest hurdle before pitching an idea and team to a solid incubator anywhere in the world is, ' a customer validated product'. If now together we are able to clear the hurdle, we will bring us at a better place to take our product and the product teams to an incubator to steer the team and the concerned product forward.
In short -: We have created a possibility of creating web MVPs and teams that can be pitched to the best early stage internet startup incubators in the world. A typical web development company needs -:
1. People.
2. IT Infrastructure.
3. An office space to house those people.
4. Ideas/projects to consume these people in.
5. Enough money to sustain all of this.
Preseed Web Lab needs none of that and it still is capable of creating far bigger and better products than a typical web development company. That is the weight of inspiration, that is the weight of Preseed Web Lab. Here scores of developers and designers work not because we pay them handsome salaries, but because they are inspired to do so, regardless of what we pay them. By the way we pay them no salary, they are yet intrinsically motivated to build cool things with us. This human resource is our greatest strenght.

Status of Preseed Web Lab ideas as on 28/12/2013
We measure our status based on how many incredibly talented hackers, hustlers and designers from India we have channeled into our ideas, without burdening ourselves with having to pay salaries. Our team page should help you decipher that. No one on that page is here to get salaries.
Preseeded To free the world from the misguided redundant systems of…
Hope Is The Thing With Feathers
by Emily Dickinson

"Hope" is the thing with feathers -
That perches in the soul -
And sings the tune without the words -
And never stops - at all -

And sweetest - in the Gale - is heard -
And sore must be the storm -
That could abash the little Bird
That kept so many warm -

I've heard it in the chillest land -
And on the strangest Sea -
Yet - never - in Extremity,
It asked a crumb - of me.


No meetings please

Some meetings sometimes are fine. All meetings all the time, are not.

Only action over written words first. Just the way I have written in this essay plenty about
I and what am I here to do for you, I expect you to do the same.

We don't do physical meetings unless:
1. There is a signed detailed letter of intent by you indicating clearly all of what you seek from us. It can simply be an email to us from your highest relevant authority.
2. A written acknowledgment that you have gone through our essays on Medium, linked to our services listed on our home page www.preseed.in.
3. You have made efforts through communication with us on Whatsapp chats, voice notes, video calls, and emails to minimize ambiguity towards clarity of our relationship.
4. You have then proceeded to talk to us over phone calls.
5. You may come to the place of our being. Our office is in New Delhi and Lucknow. However, we mostly work from remote locations like the mountains or sometimes, the beaches. You may check with us about our current whereabouts, and come to meet us there instead.
If most of the above is done, and now there is a genuine need of a physical meeting at your place of being, after having used web technology for meetings and video conferencing, you may proceed to transfer the amount equal to the cost of a to and fro air ticket for us and a reasonable stay in your city, no less than Rs. 25,000 in total in our bank account, per person visiting you, from our side:
For bank account info reach Nishchal's executive assistant at
info@gencosys.in cc:admin@preseed.in
Once done, you may intimate us on our email with all of the above and we will proceed to book our tickets to you shortly.
There's nothing more annoying than meeting just to meet. Business meetings aren't effective when a decision needs to be made or for informational purposes. You can take care of that with a simple phone call or a company-wide email with a plea for no reply.
Unless it's a brainstorming session, a meeting should be called only to support and convey a previously made decision. A productive business meeting produces a committed plan of action. To stay on track, curb any irrelevant discussions, interruptions, and repeated points.

Begin the meeting before it starts.

"Prepare people ahead of time so you are all on the same page when you enter the room," Wrike founder Andrew Filev advises. "Create notes and an agenda in advance and — here's the tricky part — actually review them before the meeting starts."

He also recommends putting key information someplace where participants can see it and discuss it in a running thread well before the actual meeting. "That way, the meeting is focused on solving problems and not just describing them," he says. "The first 10 minutes of your meeting shouldn't be a discussion of why you're meeting."

This essay is just our attempt to ensure the meeting or series of meetings during our physical presence with you are fruitful.
Note -: We detest the idea of meetings when there are more than 5 participants and ambiguous reasons for the presence of 5. We don't however mind numerous silent observers.

If you have any doubt about our understandings of efficient meetings, google "meetings are inefficient" or "meetings kill productivity" etc. Having said that, we don't mean that this is always true. However, it is mostly always true when the agenda of the meeting is not clear with a defined boundary unless the agenda itself is — boundless brainstorming.